6 November, 2021
On October 28th, 2021, SolarPower Europe and Google officially launched #SolarWorks, a campaign dedicated to showcasing and promoting the growing career opportunities the solar sector has to offer, as the industry estimates to generate 4 million jobs by 2050.
At Sonnedix, we have experience this first-hand, as our team has almost doubled in size during the COVID19 pandemic, currently surpassing 400 team member across 9 countries, and with over 40 nationalities represented.
This new initiative is developed by SolarPower Europe in partnership with Grow with Google, Google's platform dedicated to offering free access to training and resources to help people find a job or grow their career or business. The #SolarWorks campaign, specifically focuses on promoting careers in solar, showcasing the wide variety of career paths that this industry has to offer, and providing the right training, resources, and contacts to get them started.
The campaign includes a video series set on specific European markets, to share the stories and experiences of people working in solar. The goal is to encourage more people joining the industry, providing first-hand advice on kickstarting a solar career and mobilising the future solar workforce.
Watch the Spain video, and hear from Sonnedix's Engineering & Construction intern, Peggy Asprilla!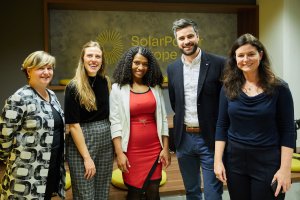 Peggy Asprilla (E&C Intern) and Joanna Thorpe (Head of Talent Acquisition & Development) at the #SolarWorks launch party in Brussels, Belgium.
Photo credit: SolarPower Europe